Medical peer review is the closest thing hospitals have to a universal process for evaluating their providers. Unfortunately, peer review differs between hospitals and cases, leading to biases, stigma, and unactionable reports. How can risk leaders standardize the process to get the most from reviews and ultimately improve patient safety?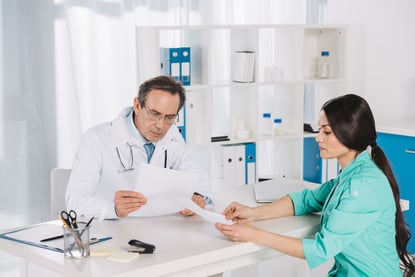 Data Collection for Chart Reviews
Peer review begins at the data collection stage. 98% of hospitals determine the need for peer review in a process called chart review, which factors in various metrics collected by the facility. So, what kinds of data does your hospital collect, and how is it used?
Of course, government agencies and accrediting bodies require the collection of hundreds of metrics, but some metrics will be more helpful than others during chart review. This will depend on the type of care your hospital provides. For example, nursing homes may want to pay extra attention to bedsore numbers, while large general hospitals may choose to focus on readmissions and acquired infections.
This prioritization significantly impacts quality improvement measures and ensures that peer review is actionable. A health system that performs a high quantity of Percutaneous cardiac interventions reduced bleeding incidents by measuring and comparing the length of stay metrics, which were strongly associated with the complication.
Here are some more tips to streamline data collection in your organization. For a more comprehensive list of metrics, check out NCQAs HEDIS Measures.
Comprehensive Data Sources: Ensure you gather data from various sources, including qualitative and quantitative. This could include past chart reviews, patient outcomes, complaints, and peer recommendations. Expanding data sources provides a more holistic view of your staff's performance.
Benchmarking: Compare individual practitioner performance with department or hospital-wide benchmarks to effectively identify outliers and areas for improvement.
Risk Stratification: Develop a risk stratification system to prioritize which practitioners require more frequent and in-depth reviews. For instance, specialties with a history of performance issues or those with high-risk responsibilities should undergo more frequent evaluations.
Tailoring Clinical Guidelines to Improve Peer Review
When doctors at your practice or hospital evaluate a peer, they will use your organization's clinical guidelines. Therefore, you will need to curate these carefully. A standard set of guidelines ensures that peer reviewers look for the right signs that the reviewee met the standard of care, and that they feel like they are being fairly evaluated. No one wants to feel singled out by being reviewed differently than their colleagues.
Various reputable sources offer recommendations, such as Healthcare Effectiveness Data and Information Set (HEDIS) guidelines from the National Committee for Quality Assurance (NCQA) or the Agency for Healthcare Research and Quality (AHRQ). But rather than adopt these sets in full, you can opt for a more tailored approach by selecting guidelines relevant to high-risk or high-volume areas in your hospital and then filling in the gaps with a more complete selection. The National Association of Community Health Centers notes, "Clinical guidelines should assist the provider staff, not overwhelm them."
With these considerations in mind, you can standardize peer review to your organization's needs and risks. Many top hospitals routinely add improvements as needed, so feel free to add or remove guidelines, increase or decrease the frequency of reviews, or any other tweaks your organization finds are necessary.
Ready to learn more about medical peer review? Read our new guide, Everything You Need to Know About Improving Medical Peer Review, or fill out the form below to get started with Medplace.