Artificial intelligence (AI) quickly moved from fringe technology to a mainstay in health systems, streamlining the workflow of healthcare workers. Rapidly progressing from its origin - niche uses in the 70's identifying blood infections – AI now plays a role in powerful Narrow AI use-cases, where it outperforms humans in specific tasks such as managing massive quantities of data. According to MIT Technology Review Insights, 7 out of 10 healthcare institutions have adopted or are considering AI. Here are 3 examples of ways healthcare organizations can leverage AI.
Automation of EHR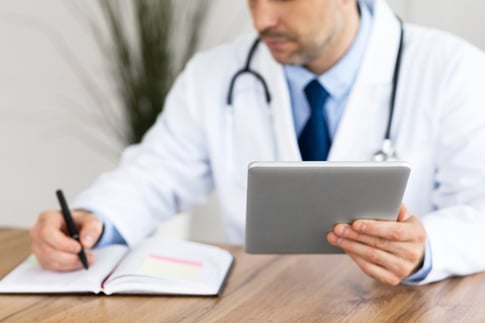 Physicians spend a sizable portion of their shifts doing paperwork. Fierce Healthcare reported that on average, doctors spend 16 minutes on EHR per patient visit, and 11% of that time after hours. Considering that paperwork plays a large role in burnout among medical professionals, implementing AI automation to handle certain EHR tasks can improve a health system's efficiency. Depending on their needs, health organizations can pay to have their own system developed, or partner with companies like Epic and MEDITECH for effective EHR management.
Clinical Decision Support
More advanced medical AI can help with clinical decision-making. Clinical Decision Support (CDS) provides intelligent patient alerts, diagnostic assistance, guidelines, and patient reports to help clinicians address the information overload they face on the front lines. As a sophisticated IT tool that handles sensitive patient information, health organizations should ensure that CDS are implemented in compliance with HIPAA or more secure standards. Some examples include:
Watson Health
Cerner
CDS Hooks
Analytics for mental health
Mental health professionals require time and expertise to accurately treat their patients, but with a mounting mental health crisis, these staff will have to care for record number of patients in order to prevent tragic outcomes. Luckily, recent developments in AI can help mental health professionals cover more ground by analyzing the sound of patient voices. New machine learning algorithms can detect depression and anxiety by the speed and pitch variance in speech at a level that the human ear cannot.
Accelerate At-Home Care
As healthcare at home gains traction in many health systems, companies like Decatur of Wise Health System in Texas started leveraging AI to bring new efficiency to the emerging model. The CMS Acute Hospital Care at Home program uses wearable biosensor technology and tablets to oversee and communicate with patients that elect to be treated at home. Clinicians check in on these patients twice daily.
Healthcare AI Growing Pains
Although healthcare workers regularly use artificial intelligence, the legal side of healthcare still has to catch up with the reality of its use in care. AI presents some hiccups in medical malpractice cases, as current laws make requesting information handled by the systems difficult, and the nature of proprietary software can obstruct a clear audit trail when plaintiffs evaluate a case. However, AI's advantages vastly outweigh the drawbacks for many health systems. As with all innovations, AI will need time to be refined for its role in healthcare.
For tips on incorporating AI into your health organization with risk in mind, check out Medplace's conversation with Matthew Keris on the Reimagining Healthcare – A New Dialogue with Risk & Patient Safety Leaders podcast.