Far from just being a formality, medical peer review directly impacts the quality of care in medical facilities. A study published in PubMed shows peer review accounts for 18 percent of the variation of quality in safety in a hospital. Accordingly, safety directors must create a robust, unbiased review system to ensure the highest standard of care. Experienced physician Dr. Husam Bader told Medplace that many doctors view peer review as a punitive measurement, putting staff on the defensive. Consequently, hospital systems need a fair process that respects patients and physicians. With the help of Risk Leader Terri Schimmer, RN, Cherokee Regional Health Center pioneered a balanced review system using Medplace.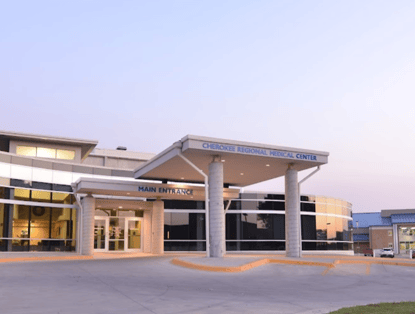 Cherokee Regional Health Center Background

Cherokee Regional Health Center serves a population of under 5,000 with its team of five family practice physicians and five providers. The Center partnered with nearby and larger hospitals for support with peer review. However, Schimmer notes that partners often submitted reviews to different specialties than those required, and the reviews suffered from bias.
But our go-to position that we often used was given different job duties. So, as a result, it was really difficult to track down and get a response, let alone do a review. So, we relied heavily on internal review because external reviews wouldn't get our reports for four or five months. One facility never even billed us because it took so long to get the information back.
But internal review introduced additional obstacles. Since Cherokee Regional Medical Center is a small facility, many of the physicians were friendly with one another and would hesitate to be thorough when reviewing their colleagues. As a result, Cherokee had a dilemma; either wait for the availability of a generalized reviewer from a nearby hospital or endure subpar reviews. By partnering with Medplace, Terri mitigated both issues.
Faster Turnaround
Medplace removed the bottleneck from Cherokee's external reviews since the platform's extensive selection of practicing physicians and nurses prevents saturating a single expert.
"The quick turnaround for cases was significant. Maybe a week or a few more days if they send you a chat that they need an additional report."
Detailed Reviews
Medplace also significantly improved the content of Cherokee's external reviews. Before, physicians withheld details for fear of landing their colleagues in hot water. Plus, mismatched specialist reviewers meant some physicians had to review cases in fields unfamiliar to them, such as an OB doctor reviewing an emergency medicine case. With Medplace, Cherokee conducted routine reports on their doctors that yielded impressive results.
The reviews themselves are just so rich and detailed. They gave a whole new input for that provider because we owe it to them to give them good quality feedback. And the fact that it was from an unbiased eye, outside our facility, made them more valuable.
Better Review Culture with Medplace
Medplace's external reviews streamlined Cherokee's peer review process and resulted in a culture shift, according to Schimmer.
"Doctors can get defensive of reviews, but it got better as we went along. Now all our medical staff is part of the review committee. In the end, it results in better care because everybody takes something away from those meetings."

Schimmer contends that the meetings and tactful feedback made doctors less defensive of reviews and more focused on delivering quality care. Click here to learn how your organization can improve its peer reviews using Medplace.