Since the advent of EHR, healthcare has collected enormous quantities of information. Healthcare remains a data-first industry. However, healthcare technology leaders like Julius Bogdan point out that data for the sake of itself serves no one.
Is that risk score that you've assigned that patient actionable? Do you have clinical pathways identified to mitigate that risk for that patient or that patient population? That's where we need to get to as an industry, not focusing on the data, but focusing on what we can do with that data to improve patient outcomes, thereby, patient population and people's lives?"
The challenge for hospital administrators and providers is to direct data where needed to improve care and empower patients to speak up for themselves and work jointly with providers. Fortunately, forward-looking healthcare community members are finding meaningful uses of data to solve the industry's long-standing issues.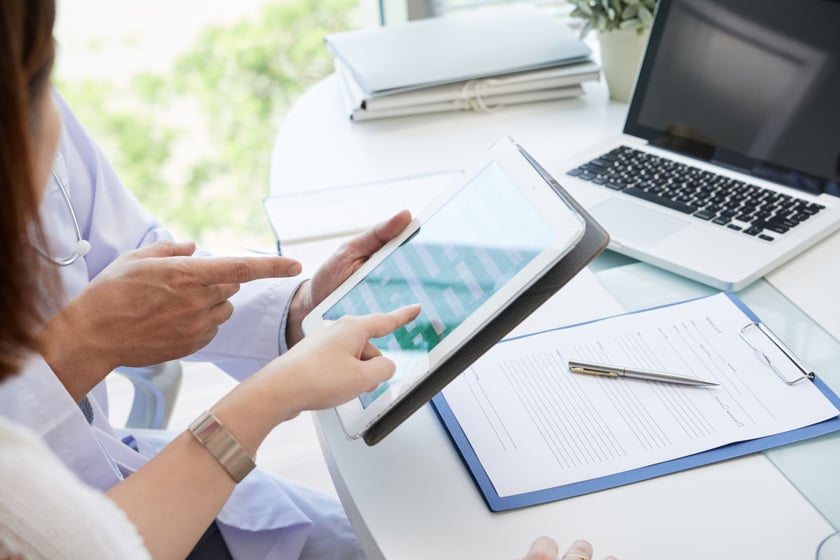 Using Data to Engage Preventative Care Patients
Data drives preventative care. Providers develop a care plan for chronic or potentially fatal conditions using information from past cases and evaluating a patient's present needs. But for long-term care, patients must be equally or more involved than their physician in making decisions that significantly impact their overall outcome. For example, patients make dietary choices that can exacerbate or relieve their conditions.
Some organizations, like Allina Health, experimented with a shared decision-making process that puts patients at the helm of their care plan with providers. Because data revealed areas of improvement in patient engagement, Allina updated their workflows with the supervision of an oversight committee of clinical leaders. This new standardized process resulted in 749 patients taking an active role in their care.
Data-Driven Communication
The hand-off of information from provider to provider or patient presents a significant challenge for healthcare. According to Julius Bogdan of HIMSS (Healthcare Information and Management Systems Society), 83% of patients named communication the worst part of their healthcare experience. In addition, poor communication creates substantial risk in hospitals. The Joint Commission attributes 80% of all medical errors to miscommunication.
Addressing this statistic may require enhancing existing information handoff strategies and expanding telehealth communication. Fortunately, 63% of patients rated the quality of their telehealth visits as good or excellent quality. With an increasing number of patients preferring online care, it is up to providers to expand this coverage and offer excellent communication.
Stuart Henderson, Global Life Sciences lead for Accenture, called on other healthcare leaders to make sure expanding telehealth coverage also meets the quality needs of patients rather than being used as a crutch.
Companies need to invest people, time and money now to build on this momentum to expand and enhance the tools and platforms they use to communicate with and provide care for patients. But technology is not enough, as companies must also continue to engage patients directly to deliver on expectations.
Children's National shows promising results in implementing healthcare data to engage patients. According to mHealth Intelligence, the 323-bed acute care hospital started by providing industry-leading telehealth, with 92% of patient parents saying they were satisfied with the facility's services. In addition, Children's National partnered with Vidoori to provide physicians with a user-friendly analytics dashboard.
Shireen Atabaki, MD, emergency medicine physician and associate medical director for telemedicine at Children's National, told mHealth Intelligence that the new program is helping their team close socio-economic gaps in access to telehealth. Additionally, the team said that implementing the new dashboard helped address a spike in demand for virtual mental health services.
Driving Patient Engagement at Your Healthcare Facility
By taking inspiration from successful patient engagement models, healthcare leaders can put their data to good use. Ultimately, every hospital and practice will need to evaluate their patient's needs and allocate their resources to keep those they serve involved in care. Some organizations, like the Kansas Healthcare Collaborative and HIMSS, connect facilities with the tools they need to make these changes. Collaboration will be vital in bringing patients and data to the forefront of healthcare decision-making.