To meet the growing needs of the U.S. population, healthcare will need to adapt quickly, and outsiders have a responsibility to transform the industry.
The insular nature of healthcare works to its benefit in many ways. For example, it protects against misinformation, malpractice, half-baked reports, and corporate corruption. But it also holds the practice back from outside ideas, leaving innovation and more modern standards of care on the table.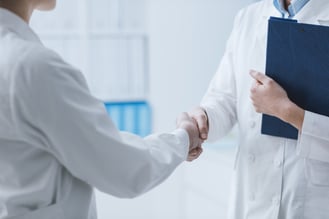 Rather than a corporate takeover, careful collaboration with outsiders could pave the way forward for healthcare. The push for value-based care proves how quick transformations happen in this space. To ensure an innovative future with improved standards of care, outsiders have a responsibility to improve the industry.
Startups
Although the industry has traditionally been wary of entrepreneurship, according to Dr. Ara Feinstein, startups have a unique role in transforming the healthcare industry.
"Healthcare will need support from outside, innovation-focused companies that are agile enough to help solve problems we might not see internally," said Dr. Feinstein.
Technology companies like Brightside and Headspace show that health professionals are willing to make space for their business-minded counterparts, given that they offer a quality service. Modern Healthcare recently highlighted some examples of outsiders reducing costs for medical systems. According to their article, "Health systems hire industry outsiders to inspire innovation," Texas Medical Center in Houston saved millions by partnering with outsiders. Faced with complaints about inaccessible parking, they brought on AI startup NarrativeDX, which strategically placed wheelchairs around the garage, making it easier for patients to access hospital facilities.
Healthcare will need support from outside, innovation-focused companies that are agile enough to help solve problems we might not see internally.
Parent and Family Advisory Councils
Widespread skepticism of the medical community, while harmful, has a silver lining. The phenomenon points to a future of care where patients and their family members feel comfortable advocating for themselves and improving their situations. However, this "Healthcare as a conversation" model does more than improve morale. Studies show that some healthcare environments that encourage this type of outsider communication can significantly improve patient outcomes and make it easier for providers to assess patient needs.
Parent and Family Advisory Councils (PFACs) are a way outsiders can promote patient-centered care within facilities and help medical providers better meet their needs. These bodies are responsible for informing providers of family choices, providing accurate information for decision-making, and participating in policy development and evaluation in care delivery. The Institute for Patient and Family-Centered Care lists several factors for powerful PFACs:

At least 50% of members are patient and family advisors (PFAs) reflecting diversity of community served

Chair or co-chair is a PFA

Have established guidelines (e.g., bylaws)

Meet regularly (10-12 times per year)

Have an agenda and maintain minutes

Provide orientation and ongoing training to members

Establish annual goals

Seek a balance of PFAC-initiated and staff-initiated projects

Evaluate effectiveness of PFAC

Document impact of PFAC on safety and quality
Several case studies show this model of communication to be effective. For example, a North Carolina-based Orthopedics group reduced its surgical infection rate to zero percent, according to the AMA Journal of Ethics. It brought unplanned readmissions from knee and hip surgeries down from 6.2 to 3.6 percent while lowering the average cost per patient. Of course, more data about the emerging model is needed to determine how realistically providers can implement PFCCs in a variety of practices; nonetheless, it remains an indicator of positive outside influence.

Patients
Even individual patients can act as outsiders to improve their quality of care. By continuing to advocate for themselves and their family members, patients can help create a new normal away from "paternalized" care. Additionally, many states require medical professionals to briefly explain procedures before administering them, so holding physicians accountable to keep their patients in the loop is crucial for those outside the system to improve its inner workings. Patients must also make informed decisions in choosing their providers to uplift quality care. The CDC highlighted evidence that elevated levels of patient engagement could enhance service delivery and outcomes while reducing costs, so patients can improve their care by remaining engaged.
The Healthcare Industry Needs Outsiders Because It Cannot Change Fast Enough.
With a legislative gridlock surrounding healthcare reform and the industry hemorrhaging skilled professionals, outsiders have a responsibility to seize the opportunity for improvement. Efforts from within, like value-based care, show promise, but outsiders can more quickly improve working conditions and patient outcomes in a COVID-wreaked industry.
Interested in seeing how the Medplace platform helps transform medical review processes to improve healthcare? Schedule a demo now.