Like healthcare and government, the legal industry suffers from too much paperwork. Reliance on snail mail, faxes, and other antiquated methods insulates litigation from many of today's cyber threats but increases lawyer workload and reduces client participation. This holds true in workers' compensation.
However, top law firms show signs of modernization. Attorneys are streamlining the claims process using AI, web-based platforms, apps, and more.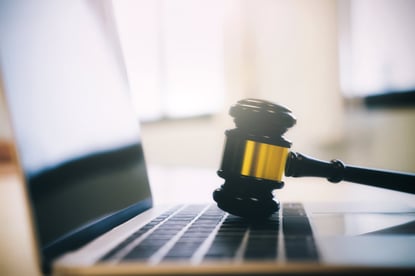 AI Software Tools
AI organization software, such as products offered by Clio, promises to reduce the risk of errors and miscommunication when handling claims and medical documents. By highlighting incomplete sections and making documents searchable, attorneys can reduce errors and spend less time revising and more time litigating. Some types of 'due diligence' software further decrease user workload by leveraging AI to help attorneys review and compare hundreds of documents for variations between revisions.
For example, California law firm Wai, Connor & Hamidzadeh partnered with Foundation AI to automate several aspects of the workers' compensation process. The firm now uses Foundation AI's Extract Filer to streamline the intake and indexing of inbound documents, according to WorkCompCentral. Shared Managing Partner Greg Conner commented, "After only a week, we are already seeing huge benefits."
AI can also make the process more secure. Subscription-based services that verify signed documents help detect falsified papers and protect the reputation of law firms and their clients.
However, law firms should evaluate the benefits and risks of AI-powered software before making it a part of their workflow. Rising ethical concerns surrounding AI, such as their lack of transparency and potential for bias, may lead to some attorneys adopting these tools in a reduced capacity. Read more about the risks of law AI here.
Apps
Everybody who enters the workers compensation system is hurt. They're scared, they're broke. They're used to working with tools, not doing paperwork.
Attorney Bob Wisniewski points out that many of his clients are uncomfortable requesting and handling necessary legal forms, so apps may be one way forward to ensure that all parties get the documents they need.
Law firms can ensure better client participation with workers' compensation smartphone apps. For example, Insurance Journal reported that the University of Alabama created an app that integrated several steps of the claims process; forms, patient info, and automatic communication with local providers. More recently, insurance giant Travelers introduced an app for injured workers that automates many aspects of the process, including two-way document signing. These tools reduce the burden on clients to manage documents, leading to a more efficient claims process.
Expert Aggregators and Platforms
Online expert resources can also accelerate a firm's claim workflow. Because securing medical experts for IMEs can be difficult, especially for smaller firms and plaintiff attorneys, online marketplaces offer a selection of experts that would not be easily accessible otherwise. Medplace's upcoming IME service allows law firms to schedule medical experts with automated billing, contracts, file sharing, and record organization all on one secure online platform.
Law Technology Adoption Rates and Obstacles
Despite the many advantages of recent technology, adopting these new tools is a slow process, falling behind areas like healthcare and finance. According to the American Bar Association's 2020 Legal Technology Survey Report, only 7 percent of law firms use AI tools, and 58 percent store their data in a secure cloud service.
Costs play a significant role in slowing the adoption of new technologies. For example, the survey showed that 33 percent of respondents chose not to integrate AI due to costs, but a more significant sum, 35 percent, did not trust the technology.
As a whole, COVID-19 prompted many law firms to get with the times, and now, according to a Clio aggregated report, 83 percent met with clients virtually. In addition, an impressive 73 percent allowed for electronic invoices, while 62 percent shared documents electronically. The results are promising but leave room for further modernization.
Technology in Workers' Comp Helps Everyone
Lawyers do not practice in a vacuum. Inefficiencies in the workers' compensation claims process incur costs for all parties involved. Experienced Arizona Attorney Robert Wisniewski told Medplace that the system needs to move faster.
I'd prefer if we could have the system compressed a little bit in terms of the time. Again, these are people's lives. It's not only the injured worker - but the entire family is also affected: the children, the spouse. If we could just get the system moving a little faster, we'd all be better off.
Technology empowers firms to speed up the process, handle more claims, and ensure a less stressful experience for their clients.