U.S. Healthcare needs innovation.
A cursory Google search for "U.S. Healthcare" yields news headlines such as "The Coming Collapse of the U.S. Healthcare System" and "Do You Want to Know How Bad Healthcare is in the U.S.?" Between significant funding obstacles, staffing shortages, reports of poor patient safety, and nuclear verdicts, the state of the U.S. healthcare system is dire.
In the face of this severe adversity, many healthcare leaders have engineered their way around these challenges. While more resources may be needed to 'fix' U.S. hospitals, here are four purpose-built tools created by and for healthcare.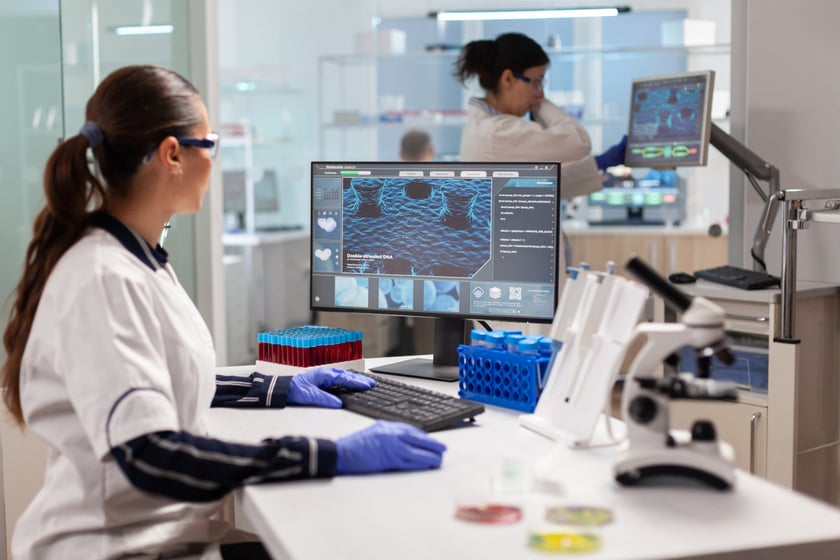 According to the CDC, the U.S. suffers from above-average maternal deaths compared to other high-income countries, with 23.8 deaths per 100,000 live births. After about ten years of risk and patient safety work at a large health system in Northeast Ohio, Dr. Steve Porter, an Obstetrician Gynecologist, and his risk team found what they believe are the causes of most OB/GYN adverse events. Dr. Porter attributes a significant portion of maternal risk to a lack of provider situational awareness leading to a failure to manage patients with best practices and siloed information in most EHR software.
Dr. Porter built riskLD with the express goal of addressing these pain points. The startup's software takes all the necessary data about the mother and places it on an easy-to-read dashboard, updated in real-time. Additionally, Porter's approach allows for remote monitoring of labor floors at outlying and community hospitals. With its continuously updated maternal and fetal graphs, alerts for clinical team members, and notifications for high-risk conditions, riskLD implementation reduced Serious Safety Events by 92% across the UH system over ten years. Consequently, UH also saw a 93% reduction in OB litigation costs. Learn more about riskLD by clicking here.
IPASS was born out of a similar necessity as riskLD. Dr. Christopher Landrigan, the cofounder of IPASS, noticed a significant gap in how healthcare providers hand off data to one another. Without a standardized process, one clinician may collect info exhaustively, while another may only request bare essentials. This inconsistency can lead to medical errors.
With a simple mnemonic for data collection and handoff to guide the handoff of care, IPASS reduced injuries due to medical errors by 30%. Critically, IPASS contains a step in its process for the provider taking over care to repeat the information back to the initial clinician for verification.
Healthcare provider burnout presents a uniquely challenging issue to hospital leaders. Insufficient staffing creates the conditions for poor provider well-being, as the remaining staff must care for more patients and may become exhausted from the increased workload (citation needed). Unfortunately, burnt-out doctors and nurses make more medical errors, according to a Mayo Clinic study. It found that 10 percent of doctors surveyed made a mistake within the past three months and that doctors who reported burnout symptoms were over two times more likely to have made a medical error. Medical errors can mean a downward spiral of poor mental health.
Peer support has been shown to improve outcomes for clinicians after an adverse event. However, getting providers to use these resources is another challenge for healthcare systems, such as Northwestern Medicine, which only saw 7 percent utilization of their program. So, how can hospitals ensure their providers have someone they feel comfortable turning to in their times of need?
Dr. Mark Greenawald suggests addressing this compounding issue with a proactive 'buddy-system' in hospitals. His free tool, PeerRxMed, pairs healthcare providers with a check-in buddy so they can start building these connections before reaching a breaking point. Since the 'buddy' can be from an external hospital, providers in the PeerRxMed program feel free to vent about flawed hospital processes or toxic coworkers without worrying about consequences. He described the methodology behind the program to Medplace.
In the military, every branch of the service has a peer system, whether it be shipmates, wingmen, or battle buddies. These are things that you don't do by yourself. Certainly, healthcare should be included in that because there's danger everywhere.

The essence of the PeerRxMed platform is you sign up, hopefully with a buddy, and begin to get a weekly email nudge to do a buddy check.
An adverse patient event starts a long and arduous process of investigation and potential litigation for providers and patients (and their families). Care-providing facilities need an expert to review whether the clinician in question met standards of care, but often, this process carries implicit bias. Other medical personnel at the facility may hesitate to review their colleague harshly or not share the same expertise as the reviewee.
Medplace is an expert management app that connects healthcare organizations with top medical experts for high-quality peer reviews. With a network of over 700 experts, Medplace streamlines the peer review process using scheduling tools, dashboards, automated invoicing & payments, and recording organization.
Although healthcare organizations may be unable to avoid the significant funding and staffing problems plaguing the industry, innovation can create much-needed efficiencies. With innovative, purpose-built tools, caregiving organizations show what the future of healthcare could look like.