When a worker is injured on the job and seeks compensation, a third-party doctor will evaluate their condition to determine what role the employee's work played in the injury. The physician must assess the worker's impairment and outlook in an independent medical exam (IME) or impairment rating evaluation (IRE). Legal counsel and workers' compensation doctors can leverage the AMA's guidelines for a standardized way to quantify injury severity and ultimately determine payment or denial of the worker's compensation claim.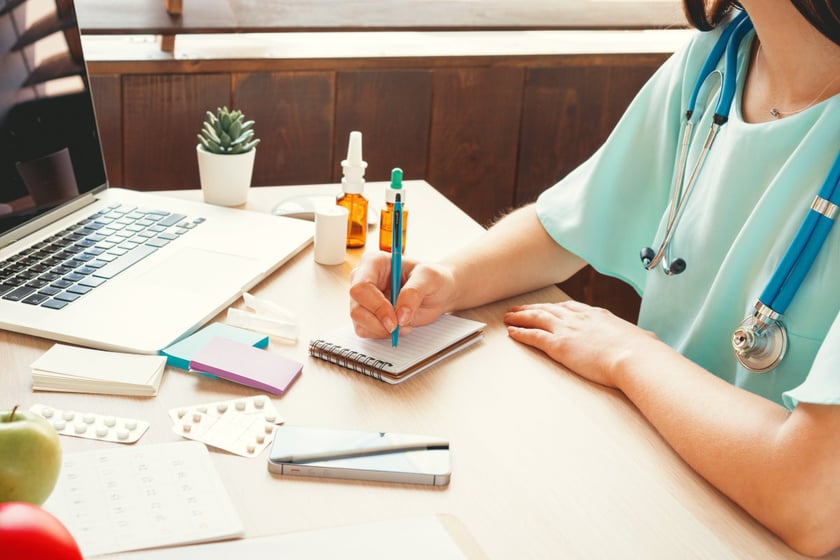 What does the doctor have to determine?
According to Medscape, the doctor performing the IME should include the following:
A physical examination.
An assessment of motivation to recover and sincerity of effort.
A report of the severity of pain and cause of injury.
Once combined, these factors give legal counsel a thorough understanding of the severity, cause, authenticity, and future impact of the worker's injury.
A Performance APGAR (Acceptance, Pain, Gut [intuition], Acting, Reimbursement) model provides criteria for measuring how motivated an injured worker is to recover, and a high APGAR score may yield a higher payment of the compensation claim. For example, early injury intervention, acceptance, and indicators of improvement, combined with the physician's best judgment, result in a score out of ten (with ten being most motivated to recover and advantageous for the claim).
AMA's guidelines to recording pain levels are standard practice when performing an IME. A physician will rate the employee's pain using a percent scale, with 100% indicating complete impairment. Additionally, the guidelines include methods to record neurologic and extremity pain for a more detailed picture of a patient's pain. Medscape notes that these measurements must be performed very carefully to avoid subsequent litigation, as the plaintiff and defense counsel may disagree on subjective pain levels.
Lastly, to determine the consistency of the worker's allegations, IME physicians must review the impact of the injury on the worker's day-to-day life and whether a history of health issues complicates the worker's case. Medications, history of addiction, and how much the injury impacts performing daily chores may be relevant to this part of the evaluation.
Impairment Ratings
The physician compiles these reports into an overall impairment rating to demonstrate how impaired the worker is to the employer or insurer. At a rating of over 50%, the injury is considered a total disability and the employee may not return to work. Conversely, under 50% indicates a partial disability, but the worker can still claim benefits for a limited time. While some critics point out that these ratings pose an unnecessary obstacle to providing workers with relief, an unbiased IME with a fair impairment rating can lead to less litigation and earlier resolution. Plaintiff Injury Attorney Mark Blane told Medplace that these guides help standardize pain and injury severity to streamline legal proceedings.
It's the most objective way to document any impairment. When performed correctly, it helps legal counsel argue for future pain and suffering instead of just shooting from the hip. It gives a basis for the juror, mediator, or judge to account for pain and suffering.
For more information about workers' compensation, click here to learn how physicians can build their reputation by performing IMEs. Schedule a demo today to see how Medplace can provide your organization with fast, high-quality IMEs.